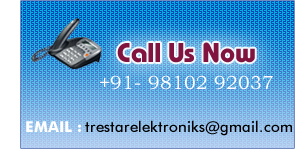 Company Profile
Established in 1985, Trestar Elektroniks enjoys a position of prominent Manufacturer and Exporter of a wide range of PTFE Insulated Electrical Wires, manufactured by employing Tape-Wrapping-fusing process. The products find a wide application among the domestic users of PTFE Wires, Multicore Cables, RF-Cables, Thermocouple Wires, PTFE Sleeves (Tubing), PTFE Tape, Kapton Wires & Cables. Courtesy of Quality and the superior attributes associated with it, our products have found a healthy acceptance in the Quality conscious markets of Europe and ASIA.
Quality of our products has been of utmost importance since the very beginning. Our entire manufacturing procedure is modeled on ISO-9002 norms with complete traceability. We follow a stringent quality program in our manufacturing unit, whereby all our products are fully tested as per specifications. We have integrated conductor fabrication facility with Silver-plating and Nickel-plating lines conforming to ASTM specifications.
Infrastructure
Our works located at Ghaziabad are well equipped with the most advanced and modern manufacturing equipment and systems for Quality control. Our sophisticated infrastructure is backed by a team of qualified, skilled and experienced personnel who are specialized in this sector. We strive to cater our customers with reliable and technologically advanced products at the most competitive prices.
Our innovative spirits enable us to stay a step ahead of our competitors by providing impeccable products. We are committed to providing exceptional customer value through :
Superior quality and service
Continuous improvement
A company that believes in providing quality product at competitive prices and delivery on time, Our company has set itself very high standards. The quality of production measures up to the standards set up for ISO Certification.
PTFE Insulated Wire
PTFE coated wire is designed to be the reliable solution you require for applications that will place your wires in extreme conditions such as high temperatures and frequencies. At Phoenix Wire, we've taken every opportunity to optimize our processes to ensure you get both the most reliable PTFE insulated wire and the best service available.
Why PTFE Insulation?
PTFE is used around the world every day as a coating material for a number of reasons, all which come together to make it an incredibly tough, resilient, and reliable material. As an insulator, it is prized for the strength of its carbon-fluorine bonds that are incredibly flexible and non-reactive. PTFE is also hydrophobic, ensuring that water and substances with water in them will not react with a PTFE insulated wire.

In addition to its chemical properties, PTFE insulated wires cannot be cross-linked and are not subject to memory or creeping. This ensures that bending, flexing, and stressing do not move or deform the PTFE coating. This makes it an incredible material for insulation, ensuring that your PTFE insulated wires have the long flex life that allow them to remain reliable for years to come.

In addition to our PTFE insulated wiring's resistance to creeping and deformation over time, PTFE insulated wires also provide extremely reliable dielectric properties, making miniature PTFE insulated wires a popular choice for PCB applications and a much more effective, high performance, and temperature resistant alternative to polyethylene.
| | | |
| --- | --- | --- |
| | | |